Access to:
- Zoom live sessions
- Circle group
- Reading materials
If you sign up for this option, you will receive access to the recorded lectures and the reading materials only so you can follow the course asynchronously at your convenience.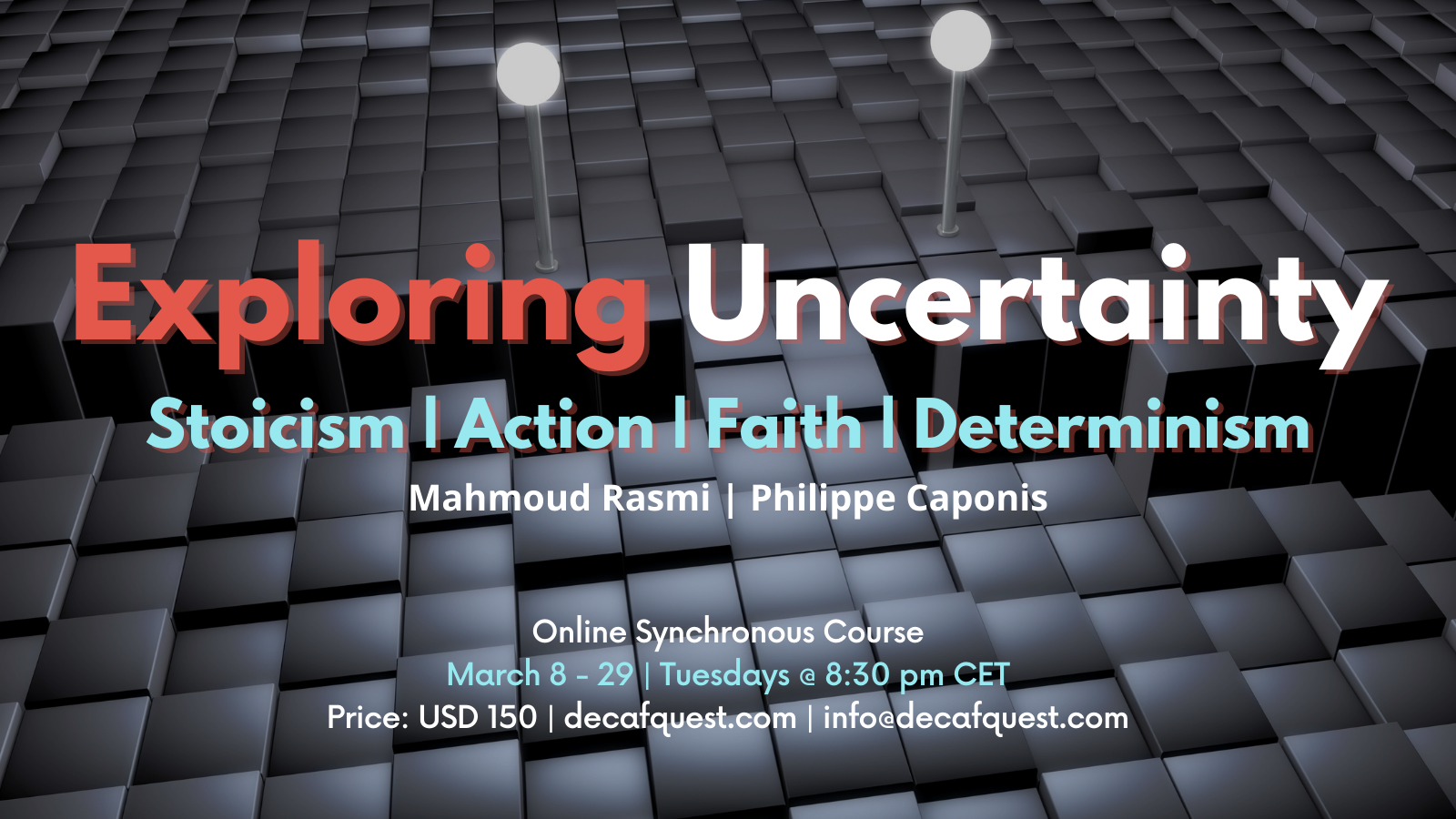 The main goal of this course is to explore how some key philosophers and philosophical schools thought about and dealt with uncertainty. We will be focusing on uncertainty from four different vantage points:
1
Stoic & Epicurean (Cultivating an attitude to deal with uncertainty)
2
Existentialist (Taking action & finding meaning in an uncertain world)
3
Moral (The ethics of acting based on insufficient evidence)
4
Scientific (Determinism & indeterminism from a scientific point of view)
This course will not give you answers. It will make you think about what certainty actually means. Why this is relevant today more than ever? Because in a time of bipartisanship, and extreme stances across the social and political spectrums, it is important to take a step back, ask ourselves key questions, and rethink what we have taken for granted.
If you feel certain that this course is going to be useful for you, think again, then decide. If you don't like what we do, we'll give you a full refund.


I mean I'd say no questions asked, but it would be too late because that's mainly what we will be doing. Ask questions.
Week 1
Stoicism and Epicureanism
Week 2
Taking action and finding meaning in uncertain times
Week 4
Determinism and indeterminism
Sample lectures
Who are we?
I've been giving these online courses since June 2020. To date, I've had over 350 participants from around the world. If you want to read a detailed review of what the courses are like, check out what Anthony Smyrski wrote in one of his newsletter dispatches at the following
link
.
Mahmoud Rasmi (@decafquest): finished his PhD in Philosophy at the University of Salamanca Spain. Between 2013 and 2020, he taught philosophy and cultural studies at the American University of Beirut and the Lebanese American University. Now, he has decided to venture into the virtual world in order to give affordable classes online to people who are interested in studying philosophy in a non-academic setting.
Here's a sample class on Stoicism from an
Introduction to Philosophy online course
Philippe Caponis (@philippecaponis): Philippe holds an MS in Physics and an MA in Philosophy from the University of Paris. He taught philosophy at the American University of Beirut and Lebanese American University. He is interested in better understanding how scientific theories illuminate (and often reshape) philosophical debates about the nature of space and time, identity and material constitution.
Here's a talk by Philippe titled:
Three Philosophical Lessons from Modern Physics
Dates & Schedule
Price: USD150$
The course will start on Tuesday, March 8 and will end on Tuesday, March 29, 2022.
Course Schedule: Tuesdays at 8:30 pm CET time (Central European Time).
Synchronous online course via Zoom
4 weeks, once a week, 2 hrs per session.
Created with