Introducing Our B2B Subscribers: ApnaKlub, Kite, Rocket Learning, Khyaal
Every innovative company must have a career development cell for its employees – not only for young professionals but also managers and executives. Here we are not referring to corporate retreats and motivational talks but good old career coaching offered by a tribe of mentors who understand the industry and have single-minded focus on helping employees navigate their careers.
We have studied internal mentorship programs offered by a wide range of companies of different sizes. With the exception of a handful, most of them do not work. Availability of mentors isn't the real challenge, curation is. That's where Network Capital steps in.
Our mission is to help every person and every organization on the planet build their category of one. That is why, we are happy to share that the following fast-growing tech companies are now are B2B subscribers. This means that all employees will be offered a Network Capital subscription paid for by the company.

The founders of Khyaal, Rocket Learning, Kite, ApnaKlub and Network Capital are aligned on the fact that employees who have a career plan, career coach, access to live cohort-based courses and 1:1 mentoring are likely to be motivated to bring their best selves to work every day. Colorful walls and lip-smacking food alone are unlikely to keep employees motivated in the long run. Demonstrating that you truly support the career aspirations of your employees is a win-win for everyone.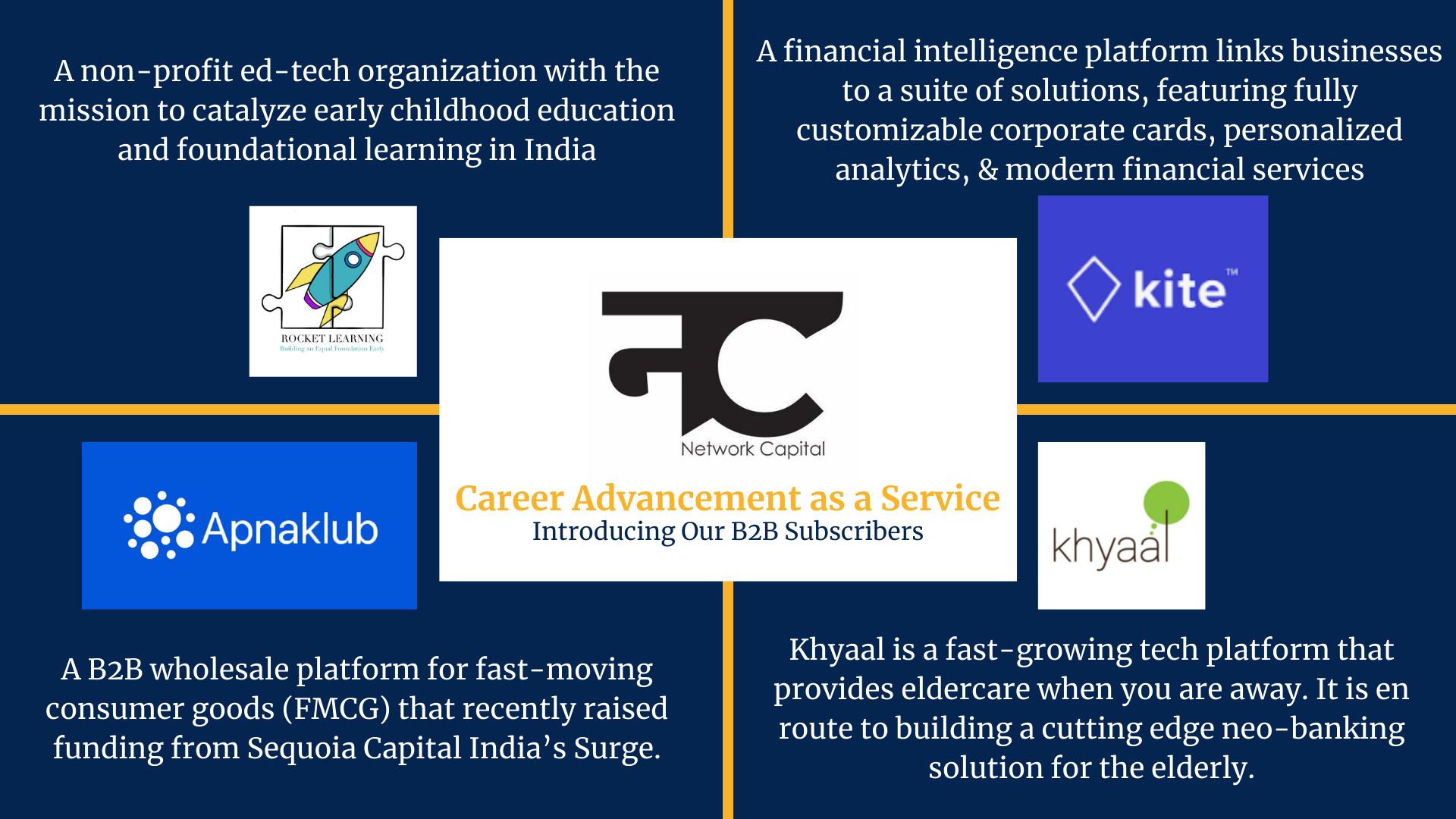 #1.
ApnaKlub
: It is a B2B wholesale platform for fast-moving consumer goods (FMCG) that recently raised funding from Sequoia Capital India's Surge.
#2.
Kite.Work
: Kite's financial intelligence platform links businesses to a suite of solutions, featuring fully customizable corporate cards, personalized analytics, and modern financial services.
#3.
Rocket Learning
: Rocket learning, one of the 7 winners at the Solve - MIT Global Challenge 2021, is a non-profit ed-tech organization with the mission to catalyze early childhood education and foundational learning in India. They partner with governments and parents to impact millions of young children between the age of 3-8 years.
#4.
Khyaal
: Khyaal is a fast-growing tech platform that provides eldercare when you are away. It is en route to building a cutting edge neo-banking solution for the elderly.
Network Capital – B2B Partnership
Starting today all employees of the above mentioned organizations are Network Capital subscribers, thanks to the support of their thoughtful founders. By investing in the careers of their employees, these founders demonstrate that they care. Their employees get the following:
Full access to all Network Capital Cohort-Based Courses: This will help employees learn important skills like community building, writing, critical thinking from the best professionals in the world
Daily newsletters that are carefully written by a team of distinguished experts
Full access to the Network Capital TV masterclasses
Support finding the best talent through Network Capital's job board and 100,000+ strong community
Unfettered access to all Network Capital's subgroups, events and learning experiences


To summarize, these fast-growing organizations are building out their career and professional development cells in partnership with Network Capital. We are thrilled they chose us for this incredibly important job and take this responsibility with a sense of adventure and possibility.
Created with