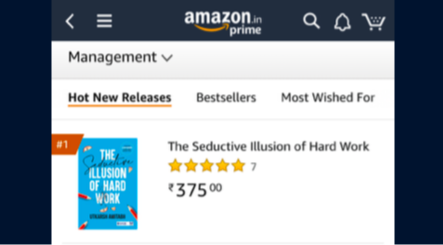 Foreword by World Economic Forum Founder, Klaus Schwab.

The young workforce is experiencing burnout and it is suspected that the romantic proclamations and obsession about hard work has lots to do with it. This book discusses all these issues and finally offers a solution-oriented approach to the myth about succeeding in work life.People take great pride in flaunting their punishing work routines. The Seductive Illusion of Hard Workestablishes that hard work is necessary but insufficient for success. In fact, misdirected hard work is way worse than no work at all. This book includes various real-life examples from the corporate world that has constantly exaggerated the role of hard work and underplayed the critical role of choices and mentorship in creating conditions for success.

Foreword By Klaus Schwab
Founder and Executive Chairman, World Economic Forum
Previous industrial revolutions liberated humankind from animal power, made mass production possible and brought digital capa- bilities to billions of people. This fourth Industrial Revolution represents a fundamental change in the way we live, work and relate to one another. It is even challenging ideas about what it means to be human. The new revolution can be considered a new chapter in human development, as it is enabled by technology advances that are commensurate with those of the first, second and third Industrial Revolutions, and which are merging the physical, digital and biological worlds in ways that create both promise and peril.

Utkarsh's book talks about the power of communities to shape the future of work. Through clear examples and case studies, he is able to demonstrate how millennials can embrace the benefits of the fourth Industrial Revolution equitably and sustainably. I appreciated the fact that he makes it clear that the future of work not only entails the creation of new jobs but also figuring out how to augment human intelligence with new tools of technology.

The book has been written after conducting detailed research and ethnographic interviews with shapers, young global leaders and other forum constituents. Utkarsh explores themes such as emotional intelligence, adaptability quotient and mental health in the context of the modern workplace. He has added concreate examples from his experience of being a Global Shaper, running network capital and working with technology companies and non-profits.

An important point of focus for the book is radical collaboration. Every day, I witness different stakeholders collaborating across age groups, regions, religions and boundaries, and it makes it clear to me that such a collaborative approach is essential for addressing complex challenges of the 21st century. We must move from a world that prioritizes materialism to a human-centred world with inter-generational perspectives. Utkarsh's focus on peer-to- peer learning and sharing is a good example of how we can build robust collaboration principles at work that can be scaled to other domains as well.

2020 was the 50th anniversary of World Economic Forum's Annual Meeting in Davos. While there were many debates and discussions around the challenging state of global affairs, our focus was to establish stakeholder capitalism as a way of addressing the world's greatest challenges, from societal divisions created by income inequality and political polarization to the climate crisis we face today. It was energizing to learn that business has now to fully embrace the stakeholder capitalism, which means not only maximizing profits but using their capabilities and resources in cooperation with governments and civil society to address the key issues of this decade. They must actively contribute to a more cohesive and sustainable world.

Utkarsh's work explains why the world demands a new kind of 'advanced' business leader who makes conscious attempts to find meaningful work, create opportunities for others and solve prob- lems beyond the bottom line. That's the spirit of being a Global Shaper and I am glad Utkarsh has put forward crisp mental models and operating principles for people committed to leading from the front.
Marshall Goldsmith
New York Times #1 bestselling author of Triggers, Mojo, and What Got You Here Won't Get You There
This is the book every millennial needs to read! Utkarsh's engaging storytelling provides a roadmap for what it means to 'find your passion' and other misconceptions of the business world. Insightful and practical—you won't be able to put it down!
Patrick McGinnisis
As the creator of the term FOMO, I loved how Utkarsh explored its nuances and offered tangible principles for shaping meaningful careers. The case studies in The Seductive Illusion of Hard Work are powerful—from the cognitive biases of the creator of Sherlock Holmes to the quirks of Paul Erdos, the legendary mathematician and networker. Given its cross-cultural and multi-generational appeal, I recommend it to anyone interested in understanding the future of work.
Farzana Haque
Community, collaboration and courage are timeless. In the new world we live, these three defining themes will determine how we relook at work and life itself. Utkarsh has captured beautifully how these will work together and their interplay. An important book. An essential read.
Sri Rajan
Utkarsh has a very interesting and sometimes counterintuitive take on the paths to success in life. This book is a very practical guide with tips that will make you rethink many things that you assumed or took for granted, especially your definition of success.
Tanya Menon
This book hits so many sweet spots: It is broad (containing examples from science, arts, sports and, of course, business) but deep; it is academic yet actionable; it offers complex ideas but in bite-sized, readable, simple prose.
Tarun Khanna
This book is a fascinating collection of mental models and career principles for discovering one's purpose. Utkarsh is a powerful storyteller whose narratives cause us to rethink how to work effectively.
Akshay Bajaj | Investor at SIG
Sri Rajan | Partner at Bain & Company
Anantika Kumari | HR Professional at CITI Bank
Gaurav Jhunjhnuwala | Entrepreneur
Arjun Vaidya | CEO of Dr. Vaidya
Mishaal Nathani | HSB 2+2
Created with