Samaanta Ambassadors Program
In our previous engagements with over 350+ women in training to be a leader in politics, we realized many women are equally interested in enabling and equipping other women at the grassroots who want to plunge into politics. This is coherent with our mission. But since NETRI cannot be everywhere and we believe in the power of decentralising knowledge, motivation and skills- we are here with India's first program for Master Political Trainers who are going to be Samaanta (Equality) Ambassadors. As Samaanta ambassadors our Master trainers will take forward the mission of getting more women elected and achieve gender equality at a much faster pace. We don't have 100 years before we close the gap on political representation. Join us #not100years #Samaantakaadhikar #pratinidhikisamaanta
In our mission, we are being joined by Haiyya and Network Capital as our partners.
Objectives of the program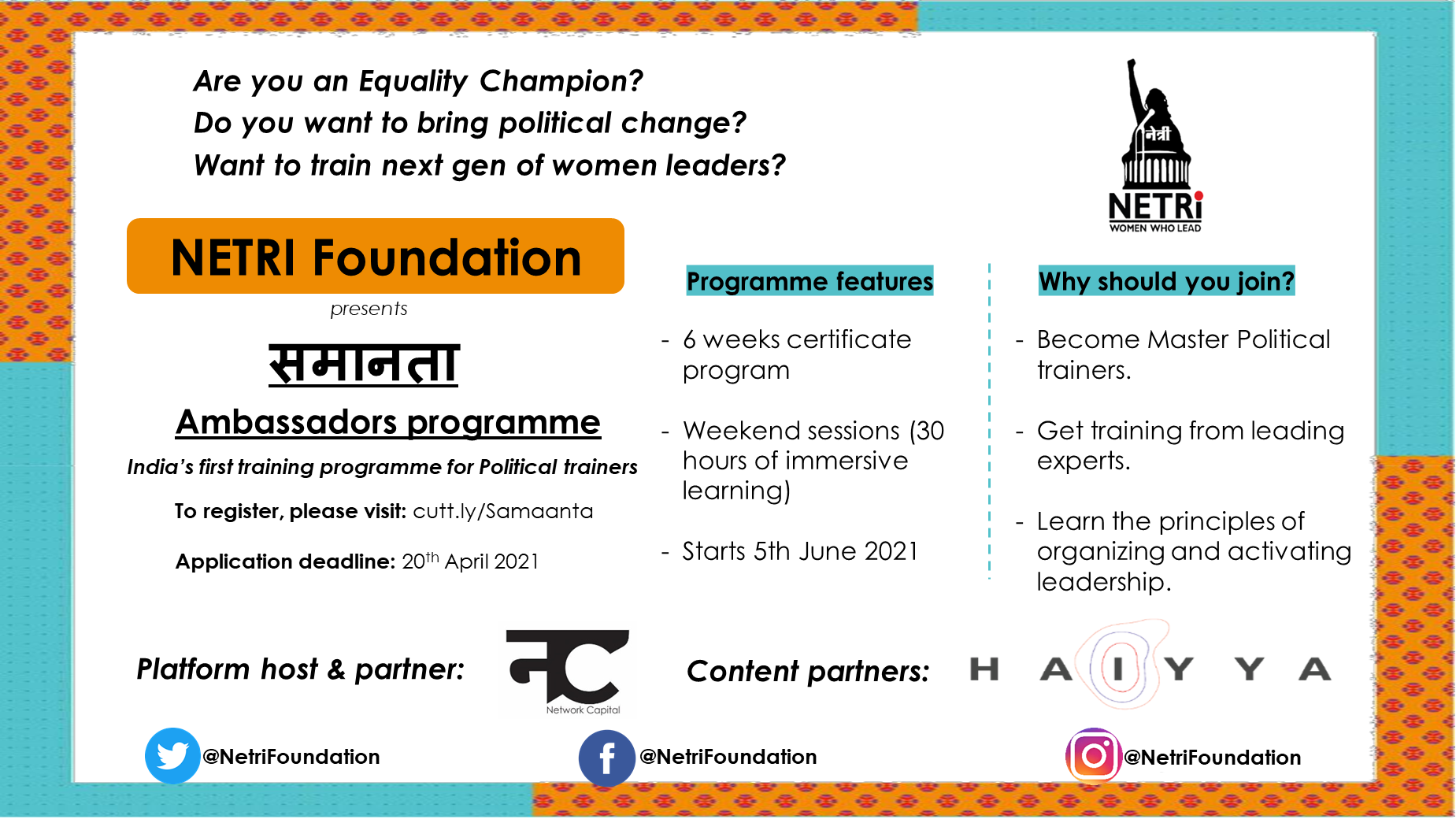 The goal of the program is to build a community of women political trainers who will be equipped to bring organisation and leadership skills to future women leaders. The program aims to build the capacity of a group of trainers from India who will be able to transfer knowledge and skills gained to women candidates as well as the team supporting these candidates.

Cohort size: 50 women

(we will prefer quality over numbers, so make a good case for your spot).

Commitment hours:
30 hours in 6 weeks (Including prep work and 1:1 coaching)
The course will equip participants with knowledge and practical skills that will help them become effective political trainers.
Training Modules
Theory: Systems and Trends
1. Women and politics - Identities & Intersectionality
2. Political Leadership in Women - Barriers and opportunities
3. Local politics - Panchayats and ULBs
4. Creating Pathways for Politics
Practicals: Learning by Doing
1. Principles of organising
2. Organising on Ground
3. Public Narrative - Prof. Marshall Ganz Framework
4. How to be an effective trainer and coach.
Additionally, participants will be provided 1:1 coaching to streamline their learnings - which will continue after the program.
A program similar to this one would cost approximately over Rs.20,000. We are charging a token amount of Rs.5000 to selected applicants to ensure accountability and sustainability of the program.
Scholarships are available, so let that not deter your choice to apply.
Program dates: 5th June 2021 to 11th July 2021 (Weekends only)
Overview
Who is the programme for?
Women and girls between 18-55 years of age
Women/girls with a strong motivation and objective to organize women for political action
Community workers/organizers/leaders
Trainers in development sector
No educational qualification is preferred.
Literacy and 2 years of volunteering is preferred.
Scope after the program
1. Identify and organize women who are interested in political change at local level.
2. Opportunity to lead the NETRI chapter in your district.
3. Become a resource person with NETRI
4. Training and Organizing is a lifelong skill set and can be applied in multiple contexts
For any further information, please write to

[email protected]
This is not all!

Get career content from global leaders like
Indra Nooyi

,

Nobel Laureate Robert Shiller

,

Dr. Shashi Tharoor

& more every week.
Created with