Rachel Botsman writes and researches about how technology is transforming trust and what this means for life, work and how we do business. Who Can You Trust? is her second book, following the highly acclaimed What's Mine is Yours.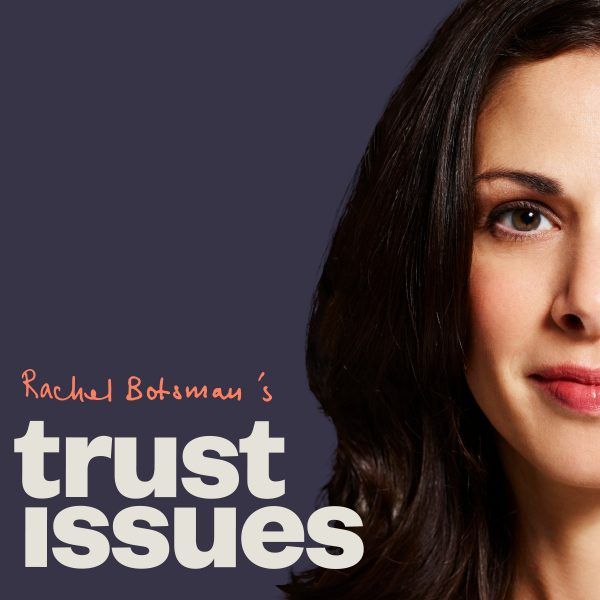 Rachel is a thoughtful and humorous storyteller who specialises in simplifying big complex ideas to make them meaningful for a wide range of audiences. She is known for her TED Talks, which have been viewed more than 4 million times and subtitled in 29 languages. Named as one of the world's top 20 speakers to keynote your conference by Monocle, she is described by clients including Google, Microsoft, Xero, Accenture and various government agencies as a "standout favourite for audiences", with a "rare and visionary intellect."
She features regularly in the media– including widely-read, regular pieces for The New York Times, Wired, The Guardian, Harvard Business Review and more. She's a dynamic and thoughtful panel member or interviewee, having featured in broadcasts on the BBC, CNN, ABC, NPR and more. Rachel will appear as a presenter on the upcoming documentary series for PBS First Civilizations on the history of trade.
She is recognised as one of the "Most Creative People in Business" by Fast Company, a "Young Global Leader" by the World Economic Forum and was a recipient of the Thinkers50 Breakthrough Idea Award for recognising a "radical idea which has the potential to change the way we think about business forever."
She is a board member for Australia's National Roads and Motorists' Association (NRMA) and was a former director at the William J. Clinton Foundation. Rachel received her BFA (Hons) from the University of Oxford and attended Harvard University for her post-graduate studies.
Rachel has worked on every continent (except for Antarctica!) and divides her time between Sydney, where she lives with her husband and two children, and London.
This is her interview with Network Capital
What do you do?
Ah, the big question! I study big structural changes happening in the world to try to offer answers on how shifts enabled by innovative technologies will profoundly change our lives. My current focus is on a profound 'trust shift' happening from institutions to individuals. I convey my ideas through writing whether that be through books or pieces for publications, talks and of course, teaching. It might sound a bit pompous, but I'm kind of like a digital philosopher.
Why do you do what you do?
I love trying to make complex things simple. Figuring out how to take what I'm learning and making the material sticky so that it connects with a wide range of people is the fun part. I started out as an artist and the design and storytelling part of my work is still a core part of who I am and what I do.
I do what I do because I don't think many people have the space or enough quiet, immersive time to really think. You need pockets of stillness. I hope the ideas that emerge help people in all different areas of their lives.
What is the one thing you believe to be true but others rarely agree with you on?
Don't do things for prestige or status alone. It can be hard when you're in the business of ideas to not seek approval and not to say no to opportunities that aren't a great fit. And of course, you've got agents and editors who don't always agree with you. I have a strong intuition so if my first hunch is this person or opportunity is not good, it usually is the right hunch. Others will sometimes say sit on it or get more information.
Which failure or apparent failure set you up for success?
If I had to choose one important failure I would say it was a couple of book proposals in between my first book What's Mine is Yours and my latest book Who Can You Trust? The ideas were not ready and so I was forcing it under an umbrella of disruption that was too generic. I know when an idea is ready to be released into the world because it seems so obvious when you point it out to people. I had to study everything from bots to Brexit to blockchains to identify this massive trust shift happening from institutions to individuals. I think the initial publishing rejections made me realize that the idea was not yet fully cooked.
What is the best investment you have made in yourself?
Being curious. I'm a polymath and I've always enjoyed reading across lots of different fields – science, politics, economics, tech – to try to get an intelligent long-view of what is happening. Immersing myself in worlds I don't understand and people different from me has been a wonderful investment. Travel is an important part of that.
Has your career been planned or a function of serendipity?
I'd say an alchemy of serendipity, diligent work and careful planning. I knew from my early 20's I wanted to write and share ideas, I just meandered for a decade to get there. Moments of serendipity happened along the way, but I was in the room at the right place at the right time through hard work and putting myself out there. I've also tried to keep a clear sense of how one thing will lead to something else and where I want to go next. I'm a massive believer in talking about something until it becomes real. For instance, I really wanted to teach so when people asked what I was doing I would tell them about a course I had written and eventually that led to Oxford.
What advice would you give to your 18-year-old self?
Go after things, even if they are hard, which give you deep fulfilment and joy. Eat and sleep well, exercise and recharge regularly. It will pay off in the future. Worry less. Big nights out are good for you. Nurture your childlike sense of curiosity and keep imagining what you would like the world to look like ten years from now.
What is the role of mentors in your life?
A superwoman called Pamela Hartigan, who was my first teaching supervisor at Oxford. She was a rare human who would contribute to others without expecting anything in return. She had no hidden agendas.
Pamela also taught me how to teach. She showed me how people learn the most when they are uncomfortable or confused and your role as a teacher is to lead them through that journey. It's a very hard to thing to do to well, to make a space not about you, even if you are the one on the stage or at the front of the room.
How can men and women work together to create a more equitable and conducive workspace?
I've had an equitable and productive working relationship with men and women. So much of it comes down to communication styles and being clear upfront about what is and is not acceptable. It's so cliché but women need more role models that are honest about challenges, and so do men. But one thing I feel strongly about is that equality won't change if its women against men. We have to be on the same side.
Created with