Career choices for young policy professionals

A two-part article series looking at the public affairs industry constituting the intersection of markets, policy and public opinion. From the origins of lobbying and the public affairs industry to the present-day realities of this space and finally looking at a toolkit for thriving as a public affairs/policy professional.
From Pennsylvania Avenue to 'Influence Alley'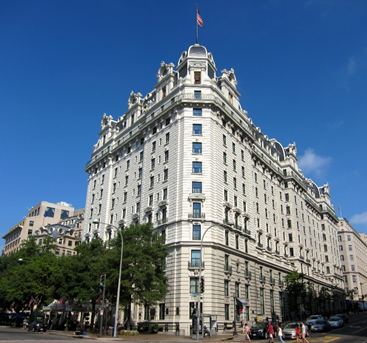 Washington D.C., circa 1850. The lobby of the hotel (in pic below) is where President Ulysses S. Grant would meet power brokers in the city (ranging from captains of industry, politicians and other influencers) over cigar and brandy. The hotel located among the rows of Pennsylvania Avenue is American folklore for the origin of an often-pejorative word 'lobbying'. However, historical references to lobbies date back even further to 1640, as the place where the public could go to speak to their members in the House of Commons.

The early day versions of these 'agents' working for private interests that ranged from persuading the U.S. Congress on federal land management around lumber-related activities to larger issues governing taxation, social policy and consumer matters. The modern-day popular culture depiction of such professionals is perhaps best seen with Jessica Chastain in "Miss Sloane", Aaron Eckhart in "Thank you for Smoking" or Mahershala Ali as Remy Danton in "House of Cards".

These characters have found currency not merely as they are suave, charming personalities working for corporate interests (bordering in grey areas) but also as we get a glimpse of the magic in the art of persuasion or exercising influence over others, whether an elected representative or a key opinion leader.
To read this and unlock the complete Network Capital experience
Network Capital subscribers and
login here
to read.
Get unfettered access to
150+ premium masterclasses created by distinguished leaders.

A global community of ambitious millennials.

1:1 mentoring to augment your professional growth.

Cohort-based fellowships to addresses your learning requirements.

Regional and thematic subgroups to help your explore your interests.

Curated content and newsletters that make you smarter everyday.
Persuasion as a Service (PAAS): Locating Careers in Public Affairs
Over time, when looking at functional attributes of such professionals, we've developed more nuance to describe careers around the art and science of this form of persuasion and influence. These rang from public affairs managers to communication specialists, government relations specialists, external relations manager and community facilitators. Whether it is Google, Toyota or a global NGO such as 'Save the Children', the demand for these professionals to advocate for change or focus on mitigating risks and not merely a function of shaping legislations.

Organizations, depending on the sector, resources, plans, tactical goals and other factors either focus on the risk management dimension and try to maximize the impact of very limited resources; or could spend considerable resources and have the ambition to shape the regulatory environment. As an example, Facebook in the wake of the Cambridge Analytica scandal has invested significant resources in not just fighting misinformation with election war rooms in the company but also on opposition research and deflecting criticism around human rights issues surrounding the platform.

For the sake of a common frame of reference, I'll stick to largely using the "Public Affairs" description framing in the subsequent sections. This is only apt, as the type of role in present day has a lot more width with its multi-stakeholder orientation as organizations pursue engaging with not just government, but think tanks, civil society groups and media. Strategic issues are at the heart of this department look at both, brand and policy-oriented activities and ambitious thought leadership strategies.
The API of Businesses and the Political World for the C Suite
Sandro Gianella, who heads Public Policy at Stripe in Europe and a colleague from the Hertie School network, quite aptly describes the importance of public affairs as it's the API between business and the 'messy political world' becoming C-suite relevant. Building and sustaining relations with stakeholders (both, internal and external) is a critical imperative whether working in-house or managing client-driven advocacy programs at a public affairs consultancy.

Issues can escalate, whether its existential in nature such as a license to operate or more cyclical market access barriers that emerge time and again. As a professional in the industry, one doubles up both as a spokesperson and a technocrat for the organization.
How does one look at public affairs in terms of moving the needle within an organization?
There are three specific areas in this regard.

Firstly, protecting the ability to develop the best possible version of a product and sell them (market access) or opening the ability in the first place (market acquisition). A simple example of this, can be seen in technological product nudges that can emerge amid a policy/public affairs team in tech companies, such as the forwarding limitation in WhatsApp to curb the spread of misinformation or Twitter's new feature enabling more gated conversations between a user and his/her followers.

Secondly, engaging with government sector engagement teams in B2B channels to increase the willingness to pay a premium for products (for e.g., by explaining USPs to public sector customers).

Finally, building trust is at the core of profile building and reputation management for an organization carried out by managing a wide variety of societal relationships. All of such efforts can play a part in driving change- whether incremental or in some cases, fairly significant.
Enter 'Citizen Lobbying'
An unfortunate consequence of the craft of lobbying has been its association with big business interests or corporations. 'Corporations lobby, citizens don't'. This myth doesn't really hold water. Lobbying by the citizens, for the citizens can manifest in several salient forms amid an internet age. Alberto Alemanno, professor at HEC Paris terms 'citizen lobbying' as an art where citizens and civil society groups can lobby for change, lobby for good.

Editorial Tip: Listen to our podcast with Yale Professor Helene Landermore here.

A citizens' collective in Europe crowdsourced a petition successfully advocating elimination of roaming charges for the EU region. 'Save the Internet', a collective movement in India resulted in a public victory for lending net neutrality into India. And, Max Schrems, an Austrian law student stood up to Facebook to challenge the circumvention of cross-border data flow regime between Europe and the United States.

These examples illustrate the ability to have a 'voice' (and not exit) as political economist Albert Hirschman calls it, makes a difference in the lives of others. It also doesn't warrant expertise or the need to understand intricacies of policymaking processes.

In conclusion, the power of persuading people who hold power, whether driven by a citizen or an organization by the means of advocacy is immense and the time has indeed come, to demystify the craft as far as possible. This is even more critical, when there are considerable cleavages between the problem-solving ability of the State and our needs as society.

Created with