This is longtime NC member
Taylor Jacobson
writing to y'all from NYC.
Until a few years ago, I had been a high performer my whole life—got high marks in school, went to Duke, joined a top consulting firm, even helped launch Teach For India, a high profile NGO.
Then in 2011, things went haywire. My company's office moved locations, and I begged my boss to let me work from home to avoid the terrible commute. She agreed, begrudgingly—and rightfully so, because what followed was a disaster.
In short, my productivity fell apart. Before long, I was having another conversation with my boss—this time, us agreeing it was time for me to go. I felt pathetic and ashamed.
I came to understand that while I didn't love working at an office, I did benefit from the structure, accountability, and human connection it provided. I missed those things; maybe I needed those things.
That struggle led me on a quest: I wanted to learn everything I could about human potential—and what gets in its way.
I studied behavioral science, read everything I could find about personal growth, and went on to become an executive coach with clients like Yale, Cornell, and Wharton.
Then in 2015, still struggling with procrastination, I tried a new experiment: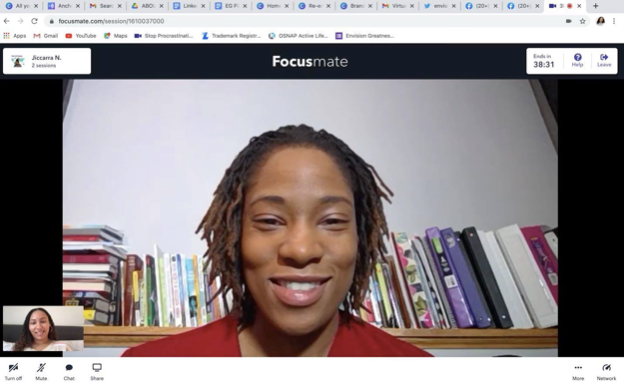 I asked a friend to join me on a video call, to keep each other company, cheer each other on, and hold each other accountable.
The results were miraculous.
Excited by my discovery, the next day I created a Facebook group and invited a few people to try this new experiment.
I called it "virtual coworking".

Fast forward to today, I run a company called Focusmate.
We're a virtual coworking community on a mission to help everyone do their best work. We're backed by world class investors like Betaworks, Upfront Ventures, Remote First Capital, Nir Eyal, and Balaji Srinivasan. We've been featured on NPR, Bloomberg, The New Yorker, Lifehacker, BBC News, and many more.
How does it work?
You and a motivating buddy spend 50 minutes on a video call. You begin by sharing what you plan to do, and then you do it! At the end, you briefly share how it went and celebrate. It's simple and incredibly effective—and in this new COVID era, most of us need this kind of support more than ever, to help us focus deeply and produce meaningful work.
It's free to sign up, and you'll get 3 sessions for free, every week.
In addition, the first 100 members to join and book a session will receive a discount code valid for a free month of our premium Turbo tier ($5 per month after that; cancel any time).
Join our newsletter
Get updates on new masterclasses, podcasts & fellowships.
Created with