Introducing B2B partnerships: Get subscriptions for your team/company
The B2B Partnership is based on the three pillars of -


1.

Hiring

.
Most startups today find their employees on NC. As a B2B partner, you will have 1 dedicated resource who will help you find top talent. You will get priority treatment on our job board and we will leave no stone unturned in finding employees with a founder mindset.
2.

Branding

.
We will leverage our network to tell interesting, authentic stories about your company. Podcasts, masterclasses and newsletters are powerful assets of NC that reach the top decision makers around the world. We will help you build your brand leveraging our assets. This will propel you to find new customers and attract top notch partners/employees.


3.

Building a strong leadership development program for your top management and sales teams
. Our focus will be on empowering your employees to bring their best self to work and have the skills to deliver outcomes. Our cohort based courses on writing, public speaking and community building will be particularly useful for your team. We are open to customizing the offering as you have more than 1300 staff members. Once you become our B2B subscriber, leadership training will be implemented by Network Capital. The timelines can be figured out jointly.
Some of our existing B2B Partners
The founders of Khyaal, Rocket Learning, Kite, ApnaKlub and Network Capital are aligned on the fact that employees who have a career plan, career coach, access to live cohort-based courses and 1:1 mentoring are likely to be motivated to bring their best selves to work every day. Colorful walls and lip-smacking food alone are unlikely to keep employees motivated in the long run. Demonstrating that you truly support the career aspirations of your employees is a win-win for everyone.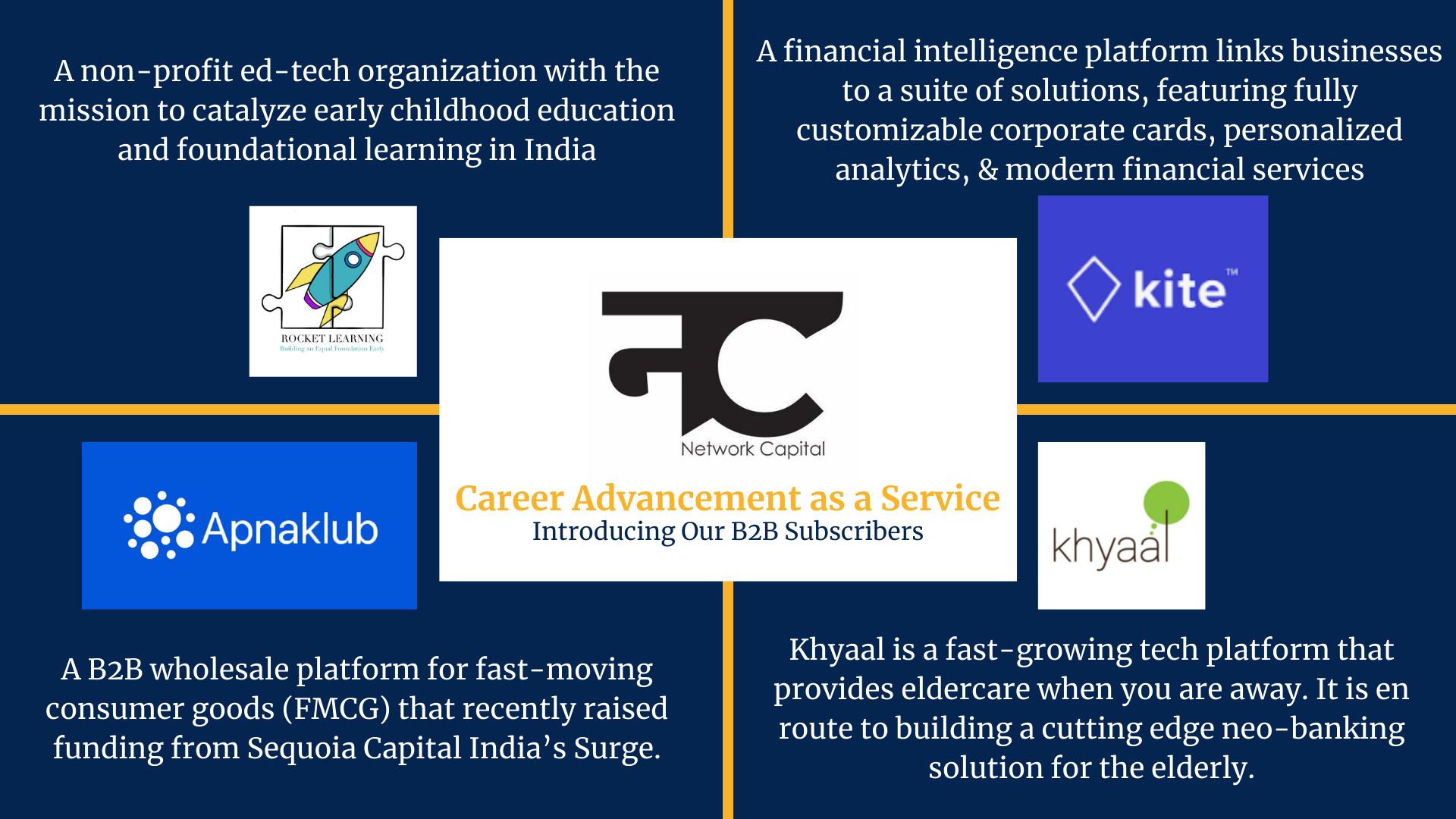 #1.
ApnaKlub
: It is a B2B wholesale platform for fast-moving consumer goods (FMCG) that recently raised funding from Sequoia Capital India's Surge.
#2.
Kite.Work
: Kite's financial intelligence platform links businesses to a suite of solutions, featuring fully customizable corporate cards, personalized analytics, and modern financial services.
#3.
Rocket Learning
: Rocket learning, one of the 7 winners at the Solve - MIT Global Challenge 2021, is a non-profit ed-tech organization with the mission to catalyze early childhood education and foundational learning in India. They partner with governments and parents to impact millions of young children between the age of 3-8 years.
#4.
Khyaal
: Khyaal is a fast-growing tech platform that provides eldercare when you are away. It is en route to building a cutting edge neo-banking solution for the elderly.
Aall employees of the above mentioned organizations are Network Capital subscribers, thanks to the support of their thoughtful founders. By investing in the careers of their employees, these founders demonstrate that they care. Their employees get the following:
Full access to all Network Capital Cohort-Based Courses: This will help employees learn important skills like community building, writing, critical thinking from the best professionals in the world
Daily newsletters that are carefully written by a team of distinguished experts
Full access to the Network Capital TV masterclasses
Support finding the best talent through Network Capital's job board and 100,000+ strong community
Unfettered access to all Network Capital's subgroups, events and learning experiences


To summarize, these fast-growing organizations are building out their career and professional development cells in partnership with Network Capital. We are thrilled they chose us for this incredibly important job and take this responsibility with a sense of adventure and possibility.
For 100+ employees in an organisation
For educational institutions & not-for profit organisations.
If you need financial aid for the Network Capital B2B partnership you can apply for it
here
.
Created with